VENTILATION
HOW TO VENTILATE YOUR GROW TENT ?
To ensure that the air in your grow tent is the same everywhere, the intake and exhaust ports must be opposite one another, and the air between them must be mixed (see Fig 1-2-3). In large tents that are long, two exhausts and two intakes may be used.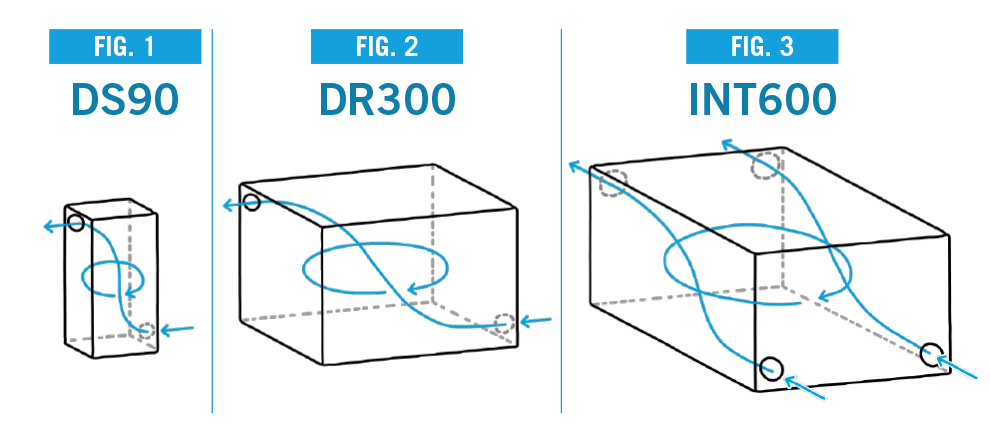 FLOW RATES FOR EXTRACTORS AND FILTERS ?
The capacity in m3/h (cfm) indicated on the extractors are measured without a filter and without external constraints (in the open air). A filter with a capacity at least equal to that of the extractor must be used. Using a filter will reduce the extractor's flow by 30%, up to 50% when it is old. Using a passive « DUCTING FLANGE – LIGHT BAFFLE » intake on a Secret Jardin grow tent will reduce the flow by 40%. Example for a DS120 120cmx120cm : 350m3/h without filter, for a flow of 275m3/h with a filter and 160m3/h in the tent with a filter & light baffle: The air is renewed every 1 to 2 minutes, depending on the filter's condition (160m3/h / 60 min / 2.9m3 = 0.9 times per min).
EXTRACTION FREQUENCY TO BE USED ?
We offer three ventilation levels. « The air in the tent is renewed every ? »
• 1 to 2 min: Grow & Intensive Grow, with temperature issues (Outdoor air > 25°C or Lighting too hot, such as open HPS)
• 2 to 4 min: Grow & Intensive Grow, without temperature issues
• 4 to 8 min: Propagation, seedlings, light growth, vegetation, no temperature problems
I deally, extraction should be used only to allow the plants to breathe. We design our products so that you do not need to « over-ventilate » them, if the incoming air is between 15°C and 25°C and if your lighting system is cool (e.g. ventilated LED or HPS).
WHEN IT'S TOO HOT ?
Sometimes, the outdoor temperature is too high. The graph opposite (Fig 4), which applies to configurations that are smaller than 5m3, will allow you to anticipate these situations. Here are some ideas :
• Cool the incoming air or connect a duct to a cooler location.
• Use lighting for the plants at night, when the outdoor temperature is coolest.
• Remove the flow-limiting filter as well, if possible.
• Replace the light baffle with a duct that is long enough to keep the light out.
• Add one or more « passive intakes » by adding a DUCTING FLANGE and LIGHT BAFFLE.
• Add an « extractor » that blows air into your tent.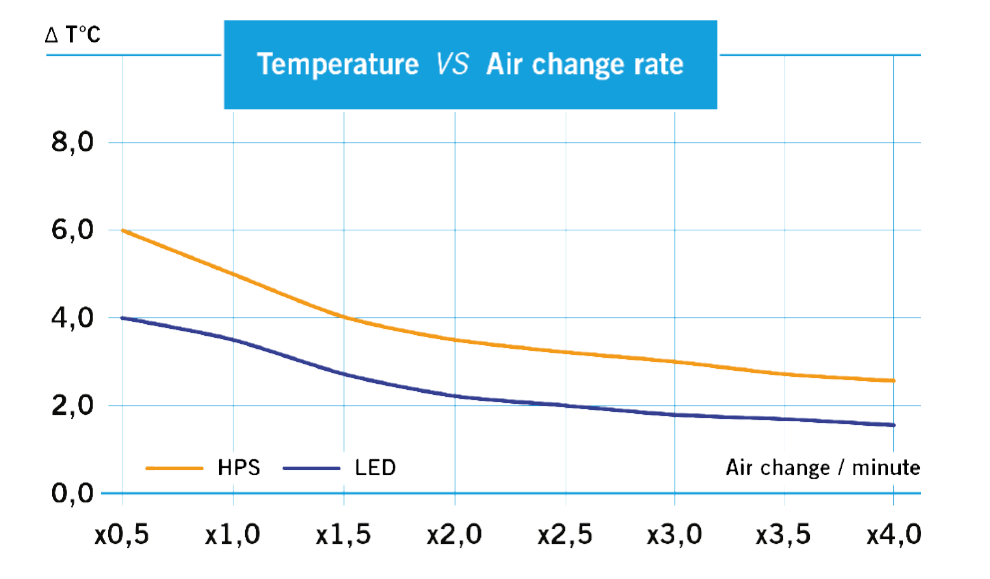 SPACE BOOSTER OR INTRACTION ?
For the outer envelope to hold the frame securely in place, there must be negative air pressure in the grow tent. This also prevents odours from being emitted, with the addition of a filter. The larger the grow tent, the more this negative air pressure will encroach on your grow space, in some cases even causing your tent to implode. If the grow tent is too large, an intake must be added, which should not exceed 70% of the extraction in order to keep the air pressure inside the tent negative. Without the Space Booster, which is provided with our pre-equipped grow tents, you will need to add this intake starting from 120cmx120cm or 100cmx100cm tents. With the SPACE BOOSTER, an intake must be added with tents starting from 150cmx150cm, or even more if you change the air infrequently, as is the case during propagation.