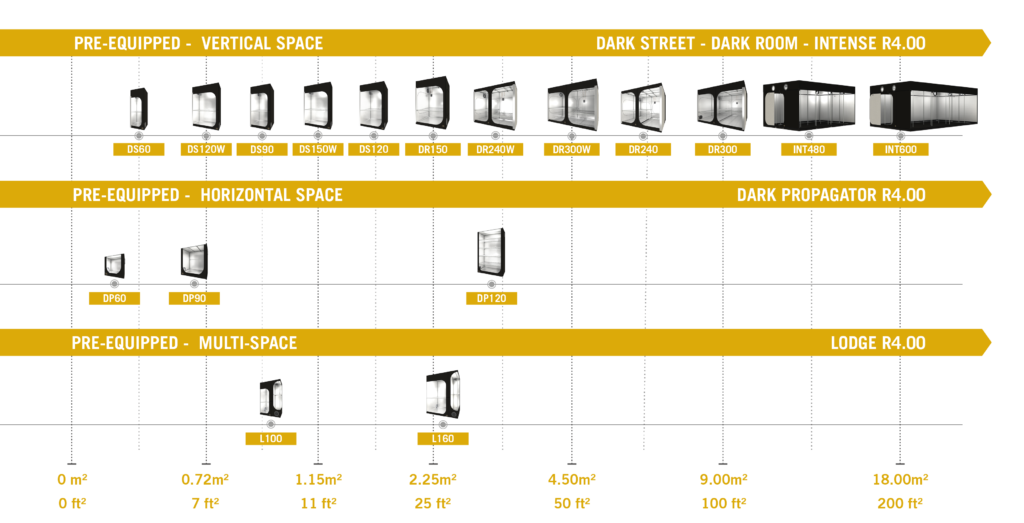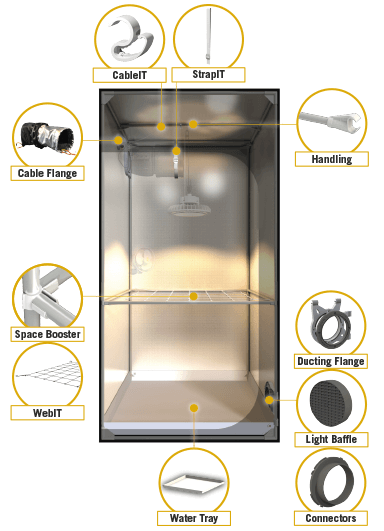 Secret Jardin tents come pre-equipped so you can quickly install a complete growing setup without requiring the use of any tools. DUCTING FLANGEs are used to create intake/exhaust ports. The STRAPIT, CABLE FLANGE, CABLEIT,  and HANDLING TUBE are used to install lighting, ventilation, cables, watering systems, etc. The WATER TRAY is a flexible, removable water tray that keeps your tent clean and prevents flooding. Finally, the SPACE BOOSTER & WEBIT can be used to increase your grow space by up to 25% while supporting your plants.
RAW MATERIALS
MATERIALS Secret Jardin uses only top-quality materials: The frame is made of Q195 steel or #201 stainless steel tubes. Instead of a standard welded-clipped system, Secret Jardin uses special reinforced plastic corner fittings, which are better suited to the repeated changes in weight that the grow tents experience. The tent fabric is made of 210D, 400D or 900D Oxford fabric with a 0.20mm-thick PVC coating and highly reflective Mylar. This provides the plants with 50% to 100% more light while thermally insulating the tent. The fabric is EN 14372:2004 certified to ensure that no toxins, such as phthalates, will harm your plants. The WATER TRAY is made from 400g/m2 swimming pool liner, which will withstand up to 5 years of intensive use. The carrying bag is made from durable 600D polyester. Nylon #30 210D thread is used on the stitching to ensure that the seams are solid.
NEW « 100% DARK ROOM » DOUBLE FLAP ZIPPER SYSTEM
The door and window zippers are cut separately so that they are covered by a 3cm flap on each side. This DOUBLE FLAP makes the tent 100% lightproof*.

THREE PRODUCT RANGES
There are three types of Secret Jardin grow tents.
• The "High-Space" range, which includes Dark Street (small), Dark Room (medium) and Intense (large) grow tents, are ideal for tall plants from 50cm to 150cm.
• The "Low-Space" range, which includes Dark Propagator grow tents, is designed for plants less than 80cm tall. These grow tents are often used for propagation and growing seedlings, and can be used for blooming small plants if the right lighting is used.
• The "Multi-Space" range, which includes Lodge grow tents, features three grow spaces in the same tent: a primary grow space for tall plants and two smaller spaces for small plants. The Lodge only requires just one extractor fan to ventilate all three rooms.
* Note: When starting up the extraction, make sure to leave an air intake open to prevent the tent from imploding, as the grow tents are also airtight.