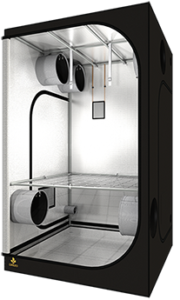 Kweektent en professionele indoor teelt apparatuur
Secret Jardin is gespecialiseerd in indoor kweek tenten (Hydroponics) en biedt professionals en beginners krachtige en aangepaste tools. Om de beste oogsten te verkrijgen, u uw kweektent uitrusten met de juiste apparatuur die speciaal voor uw installatie is ontworpen. Of het nu gaat om verlichting, ventilatie of accessoires, Secret Jardin innoverend voortdurend om de kwaliteit te verbeteren en uw rendement te verhogen.
Een kweektent , wat je ook gebruikt!
Om te voldoen aan alle soorten kweektent gebruikers, of ze nu beginners of ervaren zijn, heeft Secret Jardin een compleet assortiment ontwikkeld dat aan hun eisen voldoet. Zoek in onze producten pagina, welk type past bij uw behoefte. Onze kweek tenten hebben speciale kenmerken, afhankelijk van of ze deel uitmaken van de hobby, expert, Professional of propagatie Range. Ieder van u, boer of teler, zal de kweektent vinden die aan zijn behoeften is aangepast.
Gecertificeerde kweektent
Onze kweek tenten worden gecertificeerd door internationale organisaties om zowel een voorbeeldige kwaliteit te garanderen, de gebruikte nieuwe materialen te verifiëren en de beste veiligheidscondities te garanderen. Secret Jardin, een innovatieve fabrikant, geeft zijn productontwerpen verschillende fasen van prototyping en usability tests.
Fabrikant van kweektent sinds 2006
Secret Jardin is gemaakt in 2006 en is vooral een innovatief bedrijf: al onze kweektent en al onze apparatuur zijn ontworpen, ontwikkeld en geproduceerd door onze deskundige teams, gepassioneerd door de indoor cultuur. Door deze processen intern te houden, garandeert u een optimale kwaliteit met de productie, productie en levensduur van de producten.
Waar koop ik onze kweektent en al onze apparatuur?
Wil je naar indoor cultuur gaan of upgraden naar apparatuur van zeer hoge kwaliteit? Onze Grow tenten zijn voor u gemaakt. Om ze te krijgen, ga naar de resellers op ons netwerk, waar te kopen, aanwezig in vijf continenten.
Secret Jardin wenst u een goede oogst.